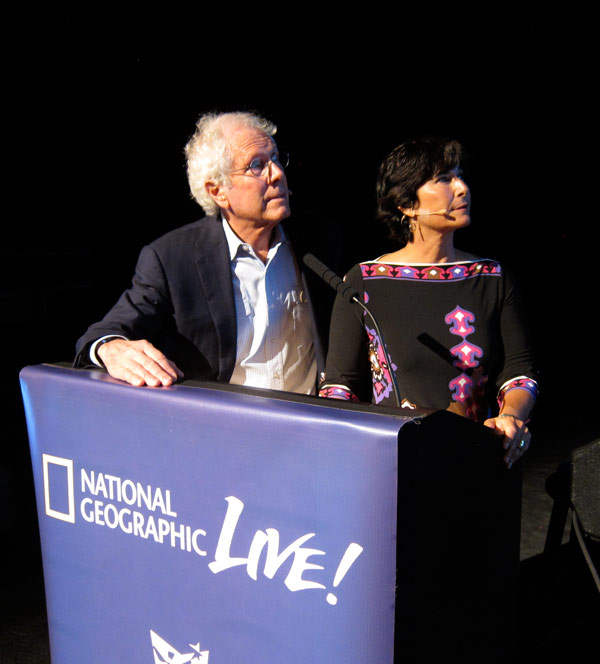 OTHER OUTREACH PROGRAMS?
Through consistent, powerful and accurate messaging designed to reach the general public nationwide, Living with Wolves works to make a critical difference to the lives of wolves in North America.
We do this through live presentations, social media outreach, publications, communication with federal, state, and regional wildlife managers as well as partnering with other conservation and wolf supporting organizations. Our reach is wide and growing everyday. Public outreach and education is crucial to changing the narrative about wolves, turning fear into understanding, misinformation into acceptance, and wolves in danger, into wolves who are thriving, contributing members of our natural world.
To protect wolves by educating as many people as possible, especially children, we are:

 Reaching over a million social media followers
 Encouraging people to take action to save wolves
 Meeting with state and federal government officials
 Providing current information via Facebook
 Publishing an informative e-newsletter
Living with Wolves Interviews
University of Santa Barbara, CA
Red Rock Ranch, Kelly (not Moose) WY
Wood River Middle School, Hailey, ID
Kauffman Center, Kansas City, MO
Ernest Hemingway Elementary School, Ketchum, ID
The Broad Stage, Santa Monica, CA
Warren Miller Performing Arts Center, Big Sky, MT
Lone Mountain Ranch, Big Sky, MT
Pitkin County Library, Aspen, CO
Garden Valley District Library, ID
American Museum of Natural History, NY
The California Academy of Sciences, San Francisco, CA
The Taft School, Watertown, CT
National Museum of Wildlife Art, Jackson, WY
Idaho Governor "Butch" Otter, Boise, ID
The Explorers Club, New York, NY
Smithsonian Museum of Natural History, Washington, DC
Dubois High School, Dubois, WY
St. Paul's School, Concord NH
Sun Valley Writers Conference, Sun Valley, ID
Big Sky Institute, Big Sky, MT
Harvard University, Boston, MA
Montana State University, Bozeman, MT

University of Washington, Seattle, WA
The Wilderness Society, Washington, DC
Memphis Zoo, Memphis, TN
University of Colorado, Boulder, CO
Chicago Brookfield Zoo, Chicago, IL

Lake Forest Country Day School, Lake Forest, IL
Girl Scouts of the Wood River Valley, Ketchum, ID
Natural History Museum of Los Angeles , Los Angeles, CA
Trinity School, Midland, TX
Lensic Theatre, Santa Fe, NM
University Child Development School, Seattle, WA
Old School Square, Delray Beach, FL
Kenosha Public Museum, Kenosha, WI
Islandwood Nature Center, Bainbridge Island, WA
The Field Museum, Chicago, IL
Wallace Stegner Lecture Series, Stanford, CA
Brooks Lake Lodge, Dubois, WY
Galapagos, Islands, Ecuador
Lake Forest College, Lake Forest, IL
Carey High School, Carey, ID
Wolf Education Research Center, Boise, ID
Wood River High School, Hailey, ID
The Community Library, Ketchum, ID
Academy of Sciences, San Francisco, CA
Peninsula Open Space Trust, Palo Alto, CA
Foothills School, Boise, ID
Idaho Rocky Mountain Ranch, Stanley, ID
Onwentsia Club, Lake Forest, Il
Blaine Manor, Hailey, ID
Valley Hunt Club, Pasadena, CA
Poly Tech School, Pasadena, CA
Flint Ridge Prep School, La Canada Flintridge, CA
Los Angeles Public Library, Los Angeles, CA
Thompson, Manitoba, Canada
Hume Fogg Magnet High School, Nashville, TN
Montgomery Bell Academy, Nashville, TN
Belle Meade Country Club, Nashville, TN
Magic Lantern Cinema, Ketchum, ID
Lake Forest College, Lake Forest, IL
River Stone International School, Boise, ID
Open Lands Foundation, Lake Forest, IL
Red Rock Ranch, Moose, WY
Wind River Historical Center, Dubois, WY
Wolf River Conservancy, Memphis, TN
International Academy, Amman, Jordan
King's Academy, Amman, Jordan
Gunnery Prep School, Washington, CT
Palm Beach Atlantic University, West Palm Beach, FL
Southeast Wildlife Exhibition, Charleston, SC
The Contemporary Club, Chicago, IL
O'Neal School, Southern Pines, NC
Lake Forest Academy, Lake Forest, IL
CIEDI School, Bogata, Colombia
Woodside School, Hailey, ID
University Prep, Seattle, WA
Natural History Museum, London, England
The UK Wolf Conservation Trust, Reading, England
Bertschi School, Seattle, WA
Treasure Valley TVTC, Boise, ID
Meridian High School, Meridian, ID
Animal Shelter, Hailey, ID
Idaho State Senate, Boise, ID
The Community School, Sun Valley, ID
National Geographic Society, Washington, DC
Bath and Tennis Club, Gulfstream, FL
Community of Concord, NH
Bannockburn School, Bannockburn, IL
David Brower Center, Oakland, CA
Santa Barbara Museum of Natural History, Santa Barbara, CA
Mesa Arts Center, Phoenix, AZ
Woodland Park Zoo, Seattle, WA
Benaroya Hall, Seattle, WA
Goodman Theatre, Chicago, Il
Lane Tech High School, Chicago, Il
PAVE Academy, Brooklyn, NY
Sibley Nature Center, Midland, TX
High Lonesome Ranch, De Begue, CO
Wood River YMCA, Ketchum, ID
Sage School, Hailey, ID
University of Utah, Salt Lake City, UT
National History Art Museum, Jackson Hole, WY
University Prep School, Seattle, WA
Miss Porter's School, Farmington, CT
Ethel Walk School, Simsbury, CT
Wyoming High School, Dubois, WY
Bannockbum School, Lake Forest, IL
California Club, Los Angeles, CA