Helpless wolf pups are being killed in Idaho. In the spring of 2020 and again in 2021, Idaho Department of Fish and Game records show that young pups are being killed by hunters and the USDA's Wildlife Services. Idaho has been steadily ratcheting up its assault on the recovering wolf population, especially since the day in 2011 when wolves lost federal protections under the Endangered Species Act. It's easy to grow numb to the constant policy changes foisted upon Idaho's wolves, but this is much more than just another incremental step in the state's efforts to kill most of its wolves. Killing newborn wolves as a matter of policy is morally and ethically reprehensible. Idaho has reached a grim new low.
Why Is Idaho Now Killing Pups?
In early 2020, the Idaho Department of Fish and Game (IDFG) changed their rules to allow a hunter or trapper to kill 30 wolves in a given year. This is an increase of 300% from 2019 and 600% from 2012. A few months later in 2020, IDFG approved a series of rules that lengthened the hunting and trapping seasons for wolves, while expanding, to nearly statewide, the regions of the state exposed to wolf trapping, making it much easier to reach that 30-wolf limit.
The changes were meant to have a dramatic and immediate impact in reducing Idaho's wolf population. Although the proposed changes were met with a great deal of public opposition, they were still adopted. The extension of the hunting season included the spring season when denning and pup-rearing occur. This means that nursing females and their pups are now also vulnerable to hunting. In 2021, the Idaho state legislature passed a law that eclipsed IDFG's excessive expansion of hunting and trapping in 2020. These latest changes create more opportunities for hunters and trappers to kill wolves through extended seasons, an expansion of the areas where wolves can be trapped, along with "expanded methods of take" and no limit to the number of wolves an individual can kill, which also includes newborn pups.
Some may have thought it was an exaggeration to suggest that pregnant and nursing females and their pups would be in peril, but records from IDFG now confirm that of the 251 wolves killed from January 1 – August 21, 2020, at least 28 of those were pups or juveniles, the latter an IDFG designation meaning they were less than a year old. In 2021, 195 wolves were killed between January 1 – June 16. Of those, 19 were less than a year old.
The Data on Pup Killing
In general, wolves throughout Idaho are all born within the same three- or four-week period. Their ages can therefore be estimated with a high degree of confidence. Of the 28 pups killed in 2020, at least 22 had been recently born, all probably between 2-11 weeks old. Of the 19 killed in 2021, 17 had been recently born and ranged from 1 – 10 weeks old.
Weights were recorded for only three of the 22 young wolf pups killed in 2020. Those three were killed on June 21, three weeks later than any of the rest. At only 16, 17 and 18 pounds, these three small pups, killed by a hunter, were also likely significantly larger than the other 19 pups. In 2021, 8 pups were killed by a hunter in the same location and on the same day, presumably all from the same litter. Six of them weighed just 3 pounds. The weapon used to kill the pups was listed as "Other."
We do not know how many more pups were killed in total because, of the 251 wolves killed from January 1 – August 21, 2020, age classification estimates were only submitted for 120 of them. In 2021, age estimates for only 99 of the 195 wolves killed between January 1 -June 16 were listed. The total number of pups killed could therefore be much higher.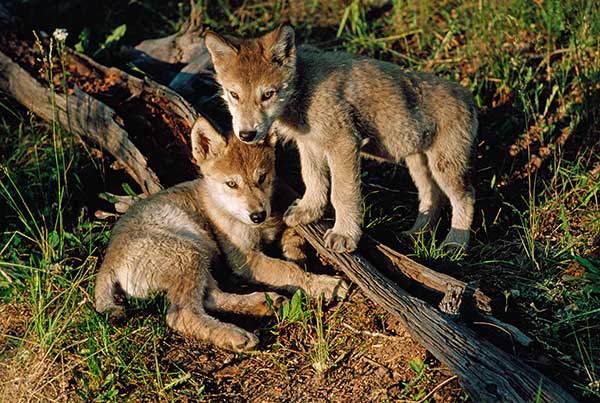 Wildlife Services is in the Business of Killing Wolf Pups
Wildlife Services was responsible for killing 16 of the 22 newly-born pups in 2020, and 7 of the 17 newly-born pups in 2021.
The U.S. Department of Agriculture's Wildlife Services (formerly Animal Damage Control) is a federal agency that exterminates wildlife for agricultural interests. In the western U.S., and especially Idaho, they kill wolves to eliminate possible threats to livestock. Wolfer is a very revealing book, a memoir about Wildlife Services' lethal control program for wolves in Idaho, Wyoming and Montana, written by former Wildlife Services trapper and wolf recovery expert, Carter Niemeyer.
Wildlife Services' operations are frequently carried out on America's public lands, such as national forests, on behalf of livestock producers grazing privately owned livestock for profit on public land. The vast majority of wolves in the West live in national forests, lands which provide optimal habitat for wildlife.
Hired by Idaho's Wolf Depredation Control Board, and paid for by Idaho taxpayers, Wildlife Services has changed the way it kills wolves and is now also targeting litters of pups. During the period when the federal government was overseeing wolf recovery in Idaho, Wildlife Services exercised more restraint and caution. Killing a recovering endangered species required a certain degree of justification and at least the appearance of restraint.
Before Idaho's wolves lost the federal protections of the Endangered Species Act, and during the five-year post-delisting federal oversight period, Wildlife Services would respond to reports of dead livestock and determine the cause of death, and whether "lethal control action" for the implicated wolves was warranted. While many of these determinations were dubious, this protocol was still being followed. What has changed in the past year or two is that Wildlife Services has now turned to preemptively killing wolves and their pups, now that the federal government is no longer overseeing wolf recovery.
Livestock are turned out onto public lands in the late spring and then gathered back up in the fall before the arrival of winter. In recent years, Wildlife Services has begun killing wolves through the winter and in the months before cattle and sheep even arrive. Needless to say, the pups being killed with Idaho taxpayer funds have never seen a cow or a sheep in their short lives. Considering the dates of their deaths, the majority of the pups killed by Wildlife Services were so young that they were likely killed right by the den in which they were born.
Given Wildlife Services' new, brazen, preemptive killing protocol, there is no way of knowing if the adult wolves being killed had ever been involved in an attack on livestock. This is the new way in which Idaho manages wolves.
Egregious and Ill-Intended Policies
It is important to reflect upon the context in which the recent changes in policy have led to the killing of Idaho's wolf pups, because it illustrates how ill-intended and egregious Idaho wolf management actually is. One would expect that to turn to killing pups, the situation must be dire.
The primary source of food for wolves in Idaho is elk. The state's elk population is very near an all-time high, record elk-hunting seasons have been common in the past decade, and, in August of 2020, the coordinator for IDFG's Deer/Elk Program said, "We are in the second Golden Age of Idaho elk hunting."
Idaho is home to 2,720,000 cattle and sheep, and only about 1,000 wolves. Considering the abundance of domestic livestock in national forests, wolves kill very few of them, preferring to feed on elk and other wild prey. From July 1, 2019 to April 30, 2020 Wildlife Services confirmed 84 cattle or sheep lost to wolves. Out of the statewide inventory of livestock, that amounts to wolves killing one of every 32,381 cattle or sheep in a ten-month period. Coyotes, wolves, bears, mountain lions and other predators are all responsible for some livestock losses.
The most recent data from 2015 show that only 6.1% of cattle producers in Idaho experienced any kind of loss to predators. And, while non-lethal tools and techniques are proven effective in keeping livestock and predators separated, Idaho lags behind its peers in participation. Out of all 12 states where cattle and wolves overlap, Idaho reported the fewest number (10.1%) of cattle producers using at least one non-lethal predator control measure, such as livestock guardian dogs.
Like all wildlife, wolves are held in the public trust for all Americans and their recovery was paid for by the U.S. taxpayer. Contrary to what Idaho contends, the wildlife within its borders is the property of all Americans and not just that of the state.
Idaho's wolf management does not represent the interests or values of most Idahoans or Americans. The state's wolf management policies represent the interests of the livestock industry and Idaho Department of Fish and Game's misguided efforts to bolster its revenue stream by turning Idaho's wild lands into a mostly wolf-free game farm. Simply put, this is the persecution of a vitally important wild predator for special interests.